1. Pre-Requirements for Installation:
2. Download EQ2EMu AoM Client Downloader
3. Unzip contents of eq2emu-downloader.zip into a new directory.
4. Run

or
depending on your file settings.
Warning: If you have issues, right click and 'Run as Administrator'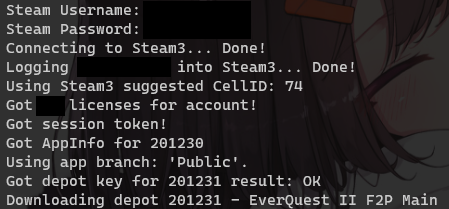 5. Modify eq2_default.ini in your EverQuest 2 directory for the play test server zeklabs.com (eg. extracted_folder\depots\201231\5035369):
cl_ls_address zeklabs.com
6. Run EverQuest2.exe in your EverQuest 2 directory, be patient as client can take a while to load.
WARNING: DO NOT RUN "EQ2.EXE" OR "LAUNCHPAD.EXE"! IF YOU DO YOU RISK PATCHING YOUR CLIENT AND REQUIRE UNINSTALL/REINSTALL OF EVERQUEST 2 ON STEAM. WE RECOMMEND DELETING OR RENAMING BOTH "EQ2.EXE" and "LAUNCHPAD.EXE" SO YOU DON'T RUN IT BY MISTAKE!
7. Login with a username and password of your choice, if rejected the username is already taken, try another.